ALL THE INFORMATION ON THIS PAGE NEEDS TO BE MOVED TO Steven Tyler AND THEN THIS PAGE NEEDS TO BE DELETED.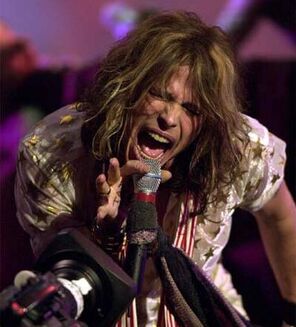 Steven Tyler
Steven Victor Tallarico was born the 26th of March, 1948, to parents Sue and Victor. In his childhood, he lived in sunapee. This most prodigious bad boy of rock began his life long passion for music by sitting beneath the piano as a little boy while his classical pianist father honed his craft. He then went on to singing in a Presbyterian church choir in the Bronx. Flash forward to the 1964 formation of his first "serious" band Thee Strangeurs, later renamed Chain Reaction, which enjoyed occasional moments in the spotlight as the opening act for The Beach Boys and the Yardbirds. In those bands, he was a drummer, but he started as the lead singer in aerosmith.
In the summer of 1970, the fortuitous blend of Jam Band members Tom Hamilton on bass and guitarist Joe Perry with Steven's vocals spawned Aerosmith, which debuted to "rave reviews" at their first public appearance at Nipmuc Regional High School in Mendon, MA that fall. Competing with other local bands such as the Modern Lovers and J. Geils, Aerosmith struggled to forge ahead while living in a cramped Boston apartment, dodging eviction notices and stealing food from supermarkets to survive. "There were five of us in the group, some of us living in the kitchen, eating brown rice and Campbell's soup. Those days a quart of beer was heaven. It was hard times and it was really good," Steven recalls.
The song "No Surprize" chronicles Aerosmith's first deal with Columbia in the summer of 1972, when Clive Davis saw the band play at New York's legendary Max's Kansas City. Their classic self-titled debut album was recorded in an astonishing two weeks and, released in January 1973, provided the blueprint for what was to become Hard Rock and Heavy Metal in the 70's and 80's. It was electrified blues, blasted through the amps of five young, raucous and hungry guys. "We weren't too ambitious when we started out. We just wanted to be the biggest thing that ever walked the planet, the greatest rock band that ever was. We just wanted everything. We just wanted it all."
Over the next five years, Tyler and the boys continued their fervent ascent by continually touring and releasing Get Your Wings, followed by Toys in the Attic, their first platinum record and a milestone, a precursor of the success that was to come. The band was at a peak, and little did they know, it was still the beginning. "I remember reading in a newspaper, in like 1976," says Steven, "and there's this article in there about how disgusting rock lyrics are, and they used 'Walk This Way' as an example of how lyrics should be nice and wholesome. I couldn't believe it. Obviously, they didn't get the meaning of 'you aint' seen nothin' till you're down on a muffin'." The band's fourth offering, Rocks, was hailed by critics as a classic American rock album and their most sophisticated work to date; simultaneously, "Dream On" from the debut album and "Walk This Way" from Toys became their first national top ten hits. By 1977, the band was one of the top concert attractions in the country and had released their next platinum album, Draw The Line.
After a long period of well-publicized estrangement between Steven and Joe Perry, the ice between the two began to thaw on Valentines Day 1984, when Joe Perry and Brad Whitford visited their old bandmates after an Aerosmith show at the Orpheum Theater in Boston. Later that year the announcement was made that the original Aerosmith line-up would reunite. Tyler remembers, "It was like five years had never passed. We knew we'd made the right move."
In 1986, the release of Run DMC's rendition of "Walk This Way," garnered Aerosmith a new generation of fans. Steven Tyler and Joe Perry's landmark collaboration with the group on the music video sparked an international hit, that not only rekindled interest in Aerosmith's career but also forever changed the face of music by uniting hip hop and rock 'n' roll.
The release of Permanent Vacation in 1987 sealed the band's triumphant return to the helm of rock, selling albums in the millions. In 1989, Aerosmith released Pump, which was accompanied by the video release of The Making Of Pump, which let rock fans around the world intimately experience the love, hate and glory involved in the recording process of America's greatest rock 'n' roll band. Pump also brought Aerosmith their first MTV Video Music Awards for Best Metal/ Hard Rock Video and the coveted Viewer's Choice Award, as well as a Grammy for "Janie's Got A Gun." The song was often associated with the tragedy of child abuse and established Aerosmith's capacity for insightful narrative and sensitivity to hard issues that effect everyone.
Aerosmith made a statement of unyielding support for America's first amendment right for freedom of speech in 1992 when they stood up to defend and restore funding for a sexually explicit art exhibit at the List Visual Arts Center at MIT, whose original support was rescinded by the federal government. That same year, the band participated in campaigns for MTV's Rock the Vote, including the organization's groundbreaking massive national TV campaign encouraging America's youth to vote in the 1992 Presidential election.
Throughout the nineties and into the new millennium, Aerosmith was honored with countless industry awards including Grammys, MTV Music Awards and American Music Awards, amongst hundreds of other accolades. They were inducted into The Rock and Roll Hall of Fame and were the first rock group recipients of MTV's Icon award. The band also scored numerous Billboard hits, including "Cryin,'" "Amazing," and their biggest hit to date, "I Don't Want to Miss a Thing," which spent four weeks at Number 1. Chart toppers "Livin' on the Edge," "Crazy" and "Pink" also earned them several more Grammys awards. With Tyler's irrepressible style helping to make them an MTV staple, the band's "Walk This Way" and "Janie's Got a Gun" are included among the "100 Greatest Videos Ever Made." For the band that seemed to have everything, what more fitting way to close the decade than by christening the Aerosmith Rock 'n' Roller Coaster at Disneyworld!?
The legendary quintet kicked off the 21st century stronger than ever with the 2001 release of Just Push Play. Co-produced by Steven Tyler and Joe Perry, the album featured the #1 Rock single, "Jaded." 2001 brought the American Music Award's prestigious International Artist Award, only given five times in the 28-year history of the Awards. Also that year, Aerosmith earned RIAA certifications making them the 10th most certified artist(s) of all time and the 6th most certified band in music history (following the Beatles, Led Zeppelin, Pink Floyd, the Eagles and AC/DC).
"…A lot of skeptics…followed Aerosmith around, and whenever we did something right, they'd ask us how we did it. Now we tell 'em it's all done with mirrors. We're through explaining ourselves," once said Tyler. who, with Aerosmith, returned to the band's roots with the release of their fourteenth album, the blues/ roots inspired Honkin' on Bobo. Steven Tyler can also list "Doctor" to his growing list of credits as he was recently honored with a doctorate in music from the prestigious Berklee College of Music.
True to his roots Steven Tyler continues to reside in Massachusetts with his two children, Chelsea and Taj Monroe. He is also the father of Liv and Mia Tyler, who are both celebrities in their own right.
Additional Info and Facts
WHAT IS YOUR BIRTHDAY?
March 26.
WHAT IS YOUR STAR SIGN?
Aries.
DO YOU HAVE ANY SIBLINGS?
One sister, Lynda.
WHAT IS YOUR PARENTS' OCCUPATION?
Curators at the Tyler Zoo.
WHEN DID YOU FIRST START SINGING?
At a Presbyterian church in the Bronx, where, for 6 years I sang in the choir.
DID YOU EVER HAVE SINGING LESSONS?
That's what the choir was all about. Other than that no, but I did learn how to warm up the old 'chords from a vocal coach, and that's stood me in pretty good stead.
DO YOU PLAY ANY OTHER INSTRUMENTS?
Keyboards, harmonica, guitar, and drums and percussion.
WHAT BANDS WERE YOU IN PRIOR TO AEROSMITH?
I've been doing the band thing since I was 15, but the main ones were The Strangeurs, Chain Reaction, The Chain, and William Proud.
HOW DID YOU COME TO FORM AEROSMITH?
William Proud was playing in a club in South Hampton doing a summer gig and I realized it was going nowhere fast, so I hitch hiked to New Hampshire and saw Joe Perry playing with The Jam Band and I knew at that point we would play together.
WHEN WAS THE FIRST TIME YOU CUT SOMETHING IN THE STUDIO?
1968 with Chain Reaction, titled "The Sun" on MGM.
WHEN WAS THE FIRST TIME YOU WENT ON TOUR?
It was with The Byrds when I played with Chain Reaction.
WHAT WAS YOUR FIRST AEROSMITH GIG?
Nipmuc Regional High School.
NAME FIVE THINGS THAT NOBODY KNOWS ABOUT YOU?
There are probably only five things left and I'm keeping those to myself!
WHAT IS YOUR FAVORITE PLACE IN THE WORLD?
On top of Mount Halliahkala in Maui where I can watch the sunrise.
WHAT IS YOUR FAVORITE FOOD?
Italian.
WHAT IS YOUR FAVORITE AEROSMITH SONG?
"No Surprize."
WHAT IS YOUR FAVORITE TV SHOW?
I like to watch Southpark.
WHAT MUSIC DO YOU LISTEN TO AT HOME?
Everything from AC/DC to Debussey.
WHAT IS YOUR FAVORITE MOVIE?
"Ferris Bueller's Day Off."
WHAT IS YOUR FAVORITE BOOK?
"The Melancholy Death of Oyster Boy and Other Unrelated Stories" by Tim Burton.
WHAT IS YOUR MOST PRIZED POSSESSION?
My hand made Damascus switchblade- affectionately known as 'The Big Ten Inch'.
IF THERE WERE ANYTHING ELSE YOU COULD BE IN THE WORLD WHAT WOULD THAT BE?
An astronaut.
WHAT IS YOUR FAVORITE SPORT?
Doing the horizontal mambo!
IF THERE WAS ANY OTHER TALENT YOU WOULD LIKE TO POSSESS WHAT WOULD THAT BE?
Painting.
IF YOU HAD TO DESCRIBE YOURSELF AS AN ANIMAL WHAT ANIMAL WOULD THAT BE?
A panther.